An Invaluable Tool for TAB, Commissioning & Energy Management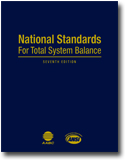 AABC is pleased to announce the publication of the AABC National Standards for Total System Balance, 7thEdition. This comprehensive manual, last updated in 2002, details the minimum standards for total system balance, provides a better understanding of the scope of work required of the TAB agency, and ensures that proper methods and procedures are followed in the test and balance process.

For the first time, this newest edition is American National Standards Institute (ANSI) approved. ANSI approval signifies that the procedures used by AABC in connection with the development of the standards meet the Institute's essential requirements for openness, balance, consensus and due process.
For more detailed information about changes in the 7th Edition, please click here to see the recent article in TAB Journal.